PPL (Aeroplanes) Theoretical Knowledge Full Ground Course, comprehensive package, Computer Based Training (CBT), Online Ground School (EASA + UK)
Login here to start studying from home the PPL 'online' ground course using our modern distance learning web-based training (WBT) platform.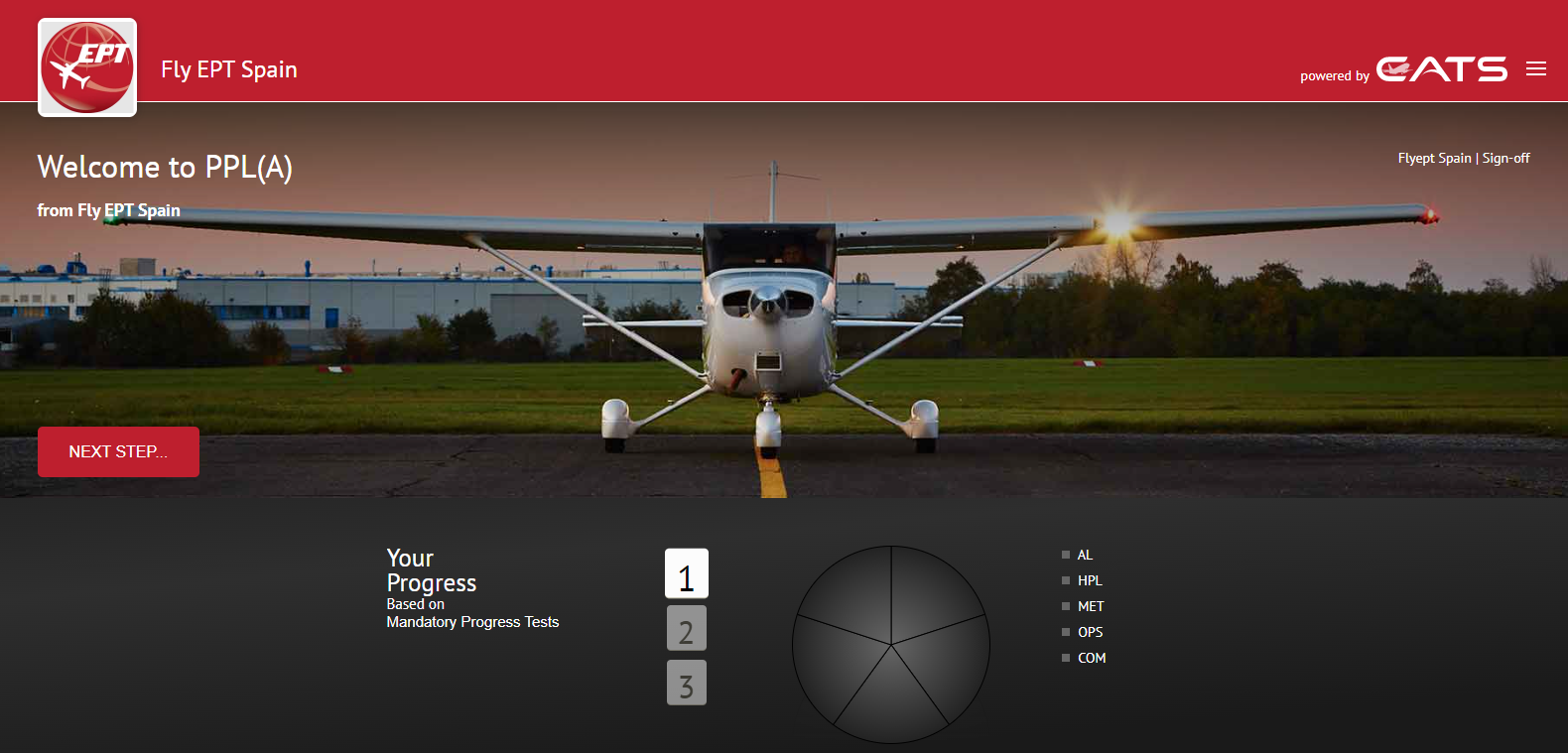 Our PPL course can be studied 100% online, full or part-time, from home anywhere in the world.
£499
Course Requirements
You must complete the personal details compliance section before proceeding with the course. This is part of our regulatory approval.
You must complete 70 hours of self-study on the approved programme before attending 30 hours Ground School element, delivered over ZOOM.
PPL Theory Course Syllabus
There are nine (9) subjects in the PPL(A) theoretical training syllabus, as follows: -
Air Law
Operational Procedures
Human Performance & Limitations
Meteorology
Navigation
Communications
Aircraft General Knowledge
Flight Planning & Performance
Principles of Flight
Online PPL Theory Course - Distance Learning - EASA + UK CAA
Fly EPT Spain has organised PPL(A) theoretical ground school training for the nine (9) exams through Cranfield Aviation Training School, an EASA and UK CAA approved ATO that offers students the opportunity to complete the entire course 100% online using self-study CBT. Distance learning allows you to study from home, in your own time, at your own pace, around your own schedule.
The PPL online ground course comprises 100 hours mandatory training all recorded on your personal course timer. You are required to undertake 70 hours of self-study home modules, followed by 30 hours of ground school 'brush up' study with your classroom attendance now delivered via CATS TV over live video-linked ZOOM, which means you can remain at home for the entire course.
The 4-day ground school is scheduled just prior to test date and essentially involves going through the European Central Question Bank (ECQB) and recent mock exam papers, wading through questions likely to come up.
You can then visit any Austro Control GmbH test center and take all nine (9) PPL exams.
By the time you arrive at Fly EPT Spain, you will be ready to complete the practical flight training with no restrictions.
PPL(A) Course Media - Computer Based Training
PPL course options range from an online web-based training system to the printed key facts book series. The materials are designed to prepare you for the PPL brush-up Ground School.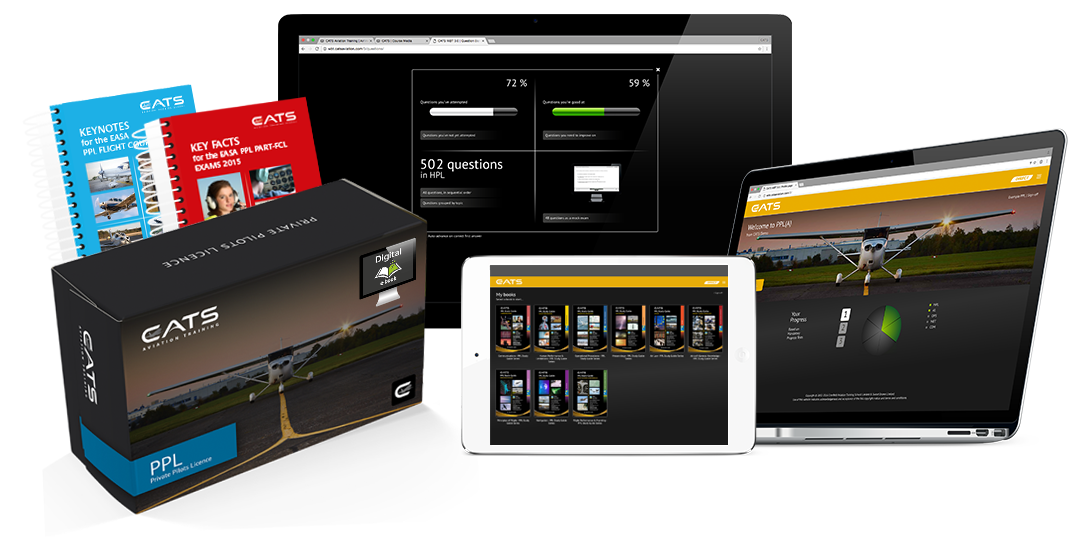 New Digital Online PPL Study Guides
Subscribing to Fly EPT Spain's online PPL ground course includes access to the COMPLETE set of PPL Digital Study Guides produced in the UK by Cranfield Aviation Training School (CATS). These up-to-the-minute theoretical knowledge study guides offer a cost effective, concise, relevant and modern approach to learning all of the theoretical knowledge in accordance with the UK and EASA Part-FCL PPL Syllabus. The Digital versions of the PPL Study Guides covers all the EASA and UK CAA Learning Objectives and important key facts which are highlighted in colour throughout. Includes: Self-assessment questions and an Indices.
WHAT IS INCLUDED: -
WHAT ISN'T INCLUDED:
The cost to sit the PPL exams
A CRP-1 or CRP-5 Computer
Accommodation for PPL exams (available locally from £60 per night. Contact our CFI to make a reservation)
Box shown for Illustrative purposes only. No box will be shipped.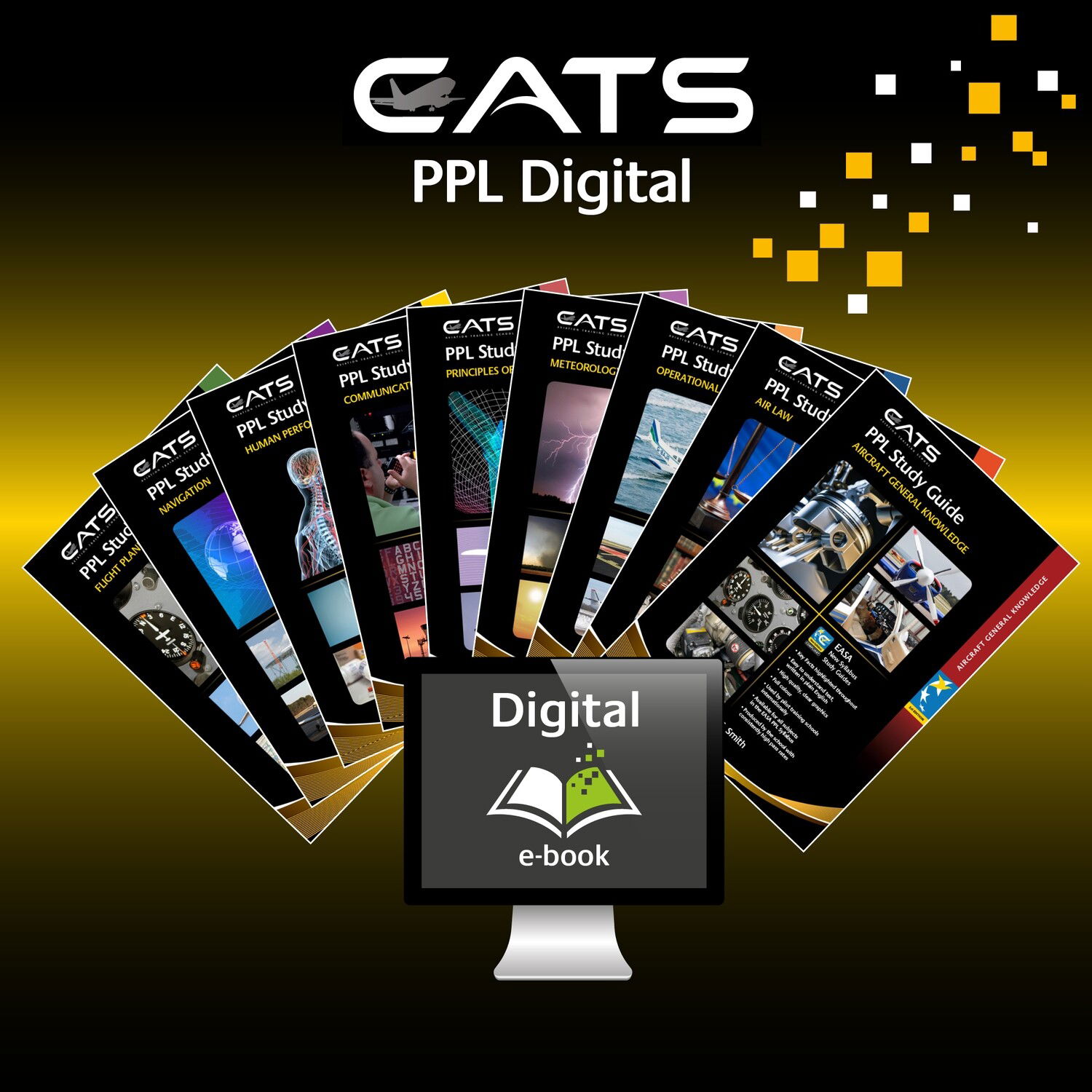 PPL Exams - What to expect
The PPL theory examinations comprise of all nine (9) required subject papers. Each PPL exam consists of between 12 and 20 questions. More details here. There are a total of 132 multiple-choice questions in the nine (9) tests. The minimum pass mark in each subject is 75%. Results will be shown after every finished exam. In the case of a fail in one subject, the exam can be repeated on the next working day at the earliest, provided there is free capacity in the examination room. After your first attempt all examinations must be passed within 18 months, calculated from the end of the calendar month in which the applicant first took the exam. You can take each test 4 times from a maximum of 6 attempt sittings in total. If you fail to pass within, you will have to re-do the whole study preparation but this is unheard of. You will pass. After you pass all your theoretical knowledge examinations, you will receive the official results and certificate from Austro Control. it will be valid for 24 months within which time you will have to finish your practical flight training and pass the PPL flight skill test, or you will have to re-sit all 9 exams again.
PPL Exam Cost
£126.00
The price of the ground course does not include the cost to sit the exams.
Student pilots can sit the EASA PPL exams at any Austro-Control GmbH test centre.
The price to sit the PPL exams can vary widely from one country to the next, anything up to €80/exam in Jordan. In Mallorca its €70/exam.
In Luton, UK, you can sit the EASA exams with Austro-Control for £35/exam (£315 total) and the UK CAA exams for £45/exam (£405 total).
However, Fly EPT Spain has secured a corporate rate with the test centre in Luton, UK. Students can sit all nine (9) PPL exams on the same day for £126 and are able to sit any retakes, if needed, the following day(s) (which not all test centers' allow). The discount is secured at the time of PPL ground school enrolment. You book the examination date when you are ready to take the test.
PPL exams can be sat at Son Bonet Airport (LESB), Palma de Mallorca. It is preferable, however, that you sit and pass the exams reporting in Mallorca to start flight training as you can not fly solo or take the skill test until exams have been passed.
Other countries where you can sit the PPL exams include Austria, Brazil, Belgium, Czech Republic, Greece, Hungary, Jordan, Netherlands, South Africa, Spain, USA, UK and Ukraine. You can download the full list here: -
How do I book my exams with Austro Control?
Download the latest Austro control application form
Fill in only Part 1 and 2 of this form electronically (not by hand) and then print and sign Part 2.
Scan and send the completed form to CFI@flyEPTspain.com along with your passport copy
We will confirm the correctness of your application and if necessary, contact you to make corrections
We will arrange for the ground school CTKI / Head of Training to counter sign it.
The ground school coordinator will send you a confirmation email to confirm your booking. You're all set !
Pre-PPL Exam 'Brush Up' Course
This pre-exam brush-up course is delivered by live TV over ZOOM so you can stay at home.
The brush-up course must be completed, or scheduled to be finished, before sitting the PPL exams.
| | |
| --- | --- |
| Date | Start Time |
| 20-24 March 2023 | TBD |
| 15-19 May 2023 | TBD |
| 10-14 July 2023 | TBD |
| 18-22 September 2023 | TBD |
| 13-17 November 2023 | TBD |
Booking directly with Austro-Control
PPL ground school students who choose to sit their exams NOT in Luton will need to send their completed counter signed registration form directly to their chosen test centre 21 days before the exam date.
Austro-Control GmbH can only allocate a confirmed examination appointment date after receiving approval by the responsible flight school (ATO).
PPL Examination Dates
The following dates are confirmed for PPL Austro-Control GmbH examinations in: -
Luton, UK - CATS Innovation Centre, 110 Butterfield Great Marlings, Luton LU2 8DL, UK Check Map here
| | |
| --- | --- |
| Date | Start Time |
| 25, 26, 27 January 2023 | 08:45 |
| 22, 23, 24 February 2023 | 08:45 |
| 29, 30, 31 March 2023 | 08:45 |
| 26, 27, 28 April 2023 | 08:45 |
| 24, 25, 26 May 2023 | 08:45 |
| 28, 29, 30 June 2023 | 08:45 |
| 19, 20, 21 July 2023 | 08:45 |
| 23, 24, 25 August 2023 | 08:45 |
| 25, 26, 27, 28, 29 September 2023 | 08:45 |
| 23, 24, 25 October 2023 | 08:45 |
| 22, 23, 24 November 2023 | 08:45 |
| 20, 21, 22 December 2023 | |
Accommodation while sitting PPL Exams in Luton, UK
You can book the Hilton hotel across the road from the Luton exam centre here. Select the 'Special Rates' tab. In Corporate Account, insert: N3068061 and you should receive a discounted rate along with free Wi-Fi, breakfast, at times a more flexible checkout as well as the ability to cancel up until the last minute (typically until 11:59 PM local hotel time the day before).
Hilton Garden Inn Luton North: Butterfield Business Park, Hitchin Rd, Luton LU2 8DL, UK
Check Map here
Visa for UK
Certain nationals visiting the UK may require a Visitor Visa.
Check if you need a UK Visa here
UK Visa details here
Exam Day
Please present yourself at the exam center 30 minutes before the start of the first exam.
If you arrive late, you will lose your right to sit the exam place reserved for you.
If you are unable to attend, please cancel an appointment at least 48 hours in advance.
The original Austro-Control signed application form and the confirmation receipt must be presented when entering the examination centre, along with a valid official photo ID (e.g., passport) that can prove the applicant's identity. Without this, it is not possible to take the test.
Finally
If you have any questions left or you experience any problems with the exam booking process, please do not hesitate to contact CFI@flyEPTspain.com
Good luck with your exams