Cheap Pilot Accommodation in Palma de Mallorca
Fly EPT Spain can recommend and book various accommodation options for pilots flying into Son Bonet Airport (LESB), located just 4 KM North-East of the city Palma de Mallorca.
Whether you're performing flight training at Son Bonet Airport (LESB) or just stopping en-route while hour building, we can make a reservation for you at the following choice of places to stay, and with whom we have negotiated a price discount for our pilots.
High Budget
For those on a high end budget you can discover hotel deals with Mallorcan Tonic, a booking site providing special offers and upgrades for luxury hotels in Mallorca.
Medium Budget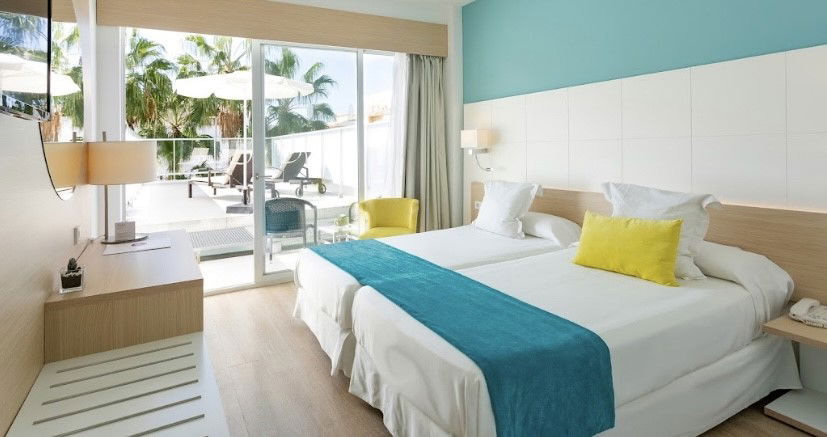 Carrer dels Pins, 26, 07610 Palma, Illes Balears, Spain
Hotel JS Palma Stay is a 4-star hotel very close to Palma de Mallorca Airport (LEPA/PMI) and we have arranged a corporate discount.
While making an online reservation, to receive a discounted rate, insert the code: JS10TRAVEL
To get to Son Bonet Airport from Hotel JS Palma Stay, you will need to rent a moped. Just a few minutes walk away from Hotel JS Palma Stay is a moped rental shop we can recommend called ROYAL RENT.
Low Budget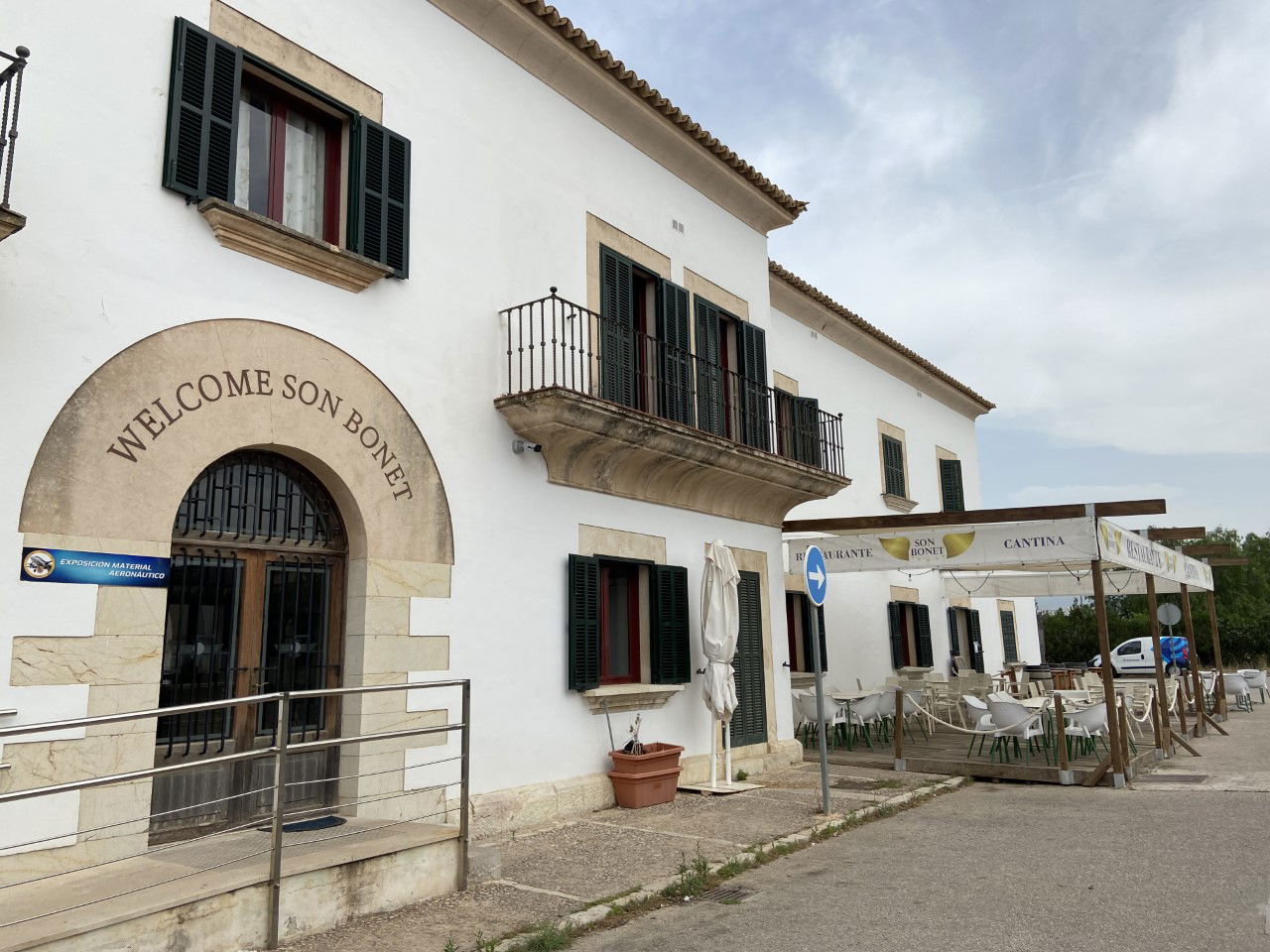 Son Bonet Residence - Son Bonet Airport
Long Stay Rates
€ 250
/ month (3-person shared)
€ 300
/ month (2-person shared)
€ 450
/ month (own room)
Short Stay Rates
Single room: €30/night
Double room, single use: €45/night
Shared Room: €25/night/person
To make a reservation, contact :-
flysonbonet@gmail.com
(Office) +34 646 593 003
For those on a low 'shoestring' budget, Son Bonet Residence (check pictures here) offer monthly rate lodgings subsidised if you are willing to share a room with another pilot student.
Son Bonet Residence is at the main airport entrance, only a 1-minute walk from the airside security gate and is therefore ideal for students performing flight training or hour building at the airfield. There are nineteen (19) rooms available with en-suite bathrooms. This is the cheapest low-cost accommodation option available. There is a restaurant downstairs offering 10% discount on food to residents. Washing machine cost €3. The residence is popular with student pilots and is regularly used to host residential cabin crew courses. LIDL supermarket is a few minutes' walk away. Mopeds and cars can be hired at the check-in office (have your driving license). The train station is across the road from the main entrance and the train line takes you straight into central Palma de Mallorca.
Nearest train station to Son Bonet Airport (2 minutes' walk): Pont d'inca Nou Esació (207)
From Son Bonet Airport, to reach downtown Palma city centre, take the West-bound train to railway station: Palma Estació Intermodal
From Palma International Airport (PMI), take bus 547 at PMI airport to Palma city Centre - Palma Estació Intermodal - then change and take the train to Pont d'inca Nou Esació (207)
Bus Stop at Son Bonet Airport: M2 and T1 - Pont d'Inca Nou Estació (207) (Line 3 Bus)
Taxi telephone numbers:
+34 971 20 12 12
+34 971 40 14 14
+34 971 20 09 00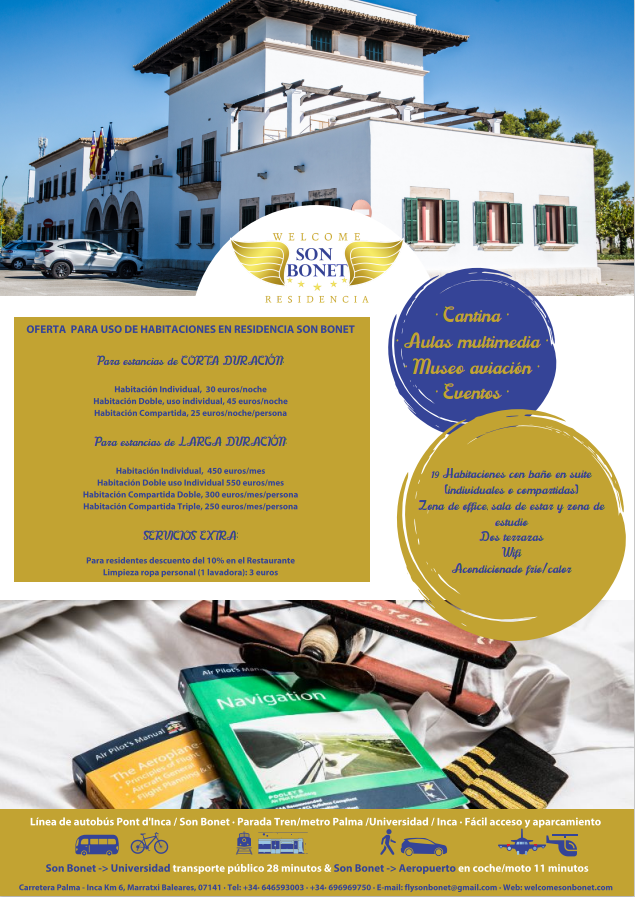 Other Flight Crew Accommodation
Flight crew can also check for hostels, lodgings, guest houses and for spare rooms in Palma de Mallorca through: -
WE HOSTEL downtown Palma de Mallorca (centrally located) - lively, social backpackers
Things to do in Mallorca
If you're looking for inspirational things to do on the island of Palma de Mallorca do check GetYourGuide.com and hotels.com/go/spain/mallorca
Cheap Car Rental in Palma de Mallorca
Cheap car rentals in Palma de Mallorca can be found starting from €5/day.